Can Just

90 Minutes

transform your life?
It seems rather remarkable. That you could sit down with me for ninety minutes and experience such a radical shift, your life won't be quite the same again, in the best way possible.  
The fact that you're reading this means you're probably like most of my clients. You're smart, ambitious and juggling a successful career, along with a million other responsibilities. You may or may not have already realized that you *should* be making yourself a priority … but let's be honest, you aren't.
Instead, you're swirling about in overthinking trying to multitask the pieces of your life while waiting for everyone else to get their shit together so you can feel better, slow down and relax.
Am I right, or am I right?
You probably already know what you should be doing.
Whether it's to get healthy, take better care of yourself, grow your business, make more money, be a better mom, wife, friend… you know what you *should* do. In fact, you're
buried
in *shoulds.* And you're also frustrated because, if you're like most of my plate spinning clients, you actually believe you *should* be able to make it all happen.
You've noticed you're great at taking action, but seem to lack the commitment to stay the course. You've also noticed that, when times get tough or circumstances get difficult, you default into poor habits. Taking care of yourself becomes an afterthought.
You've tried the strategies, plans, group programs, courses, read all the self-help books and have worked SO damn hard, so why aren't you *there* yet?
"Transformational life coach, health rockstar and probably the most caring and honest person you'll ever meet. For real.
Throughout the past year, she has helped me change both my business and life in ways I never believed possible. She's seen my celebrations and my face down moments… and has amazingly walked this journey alongside every single one. She's taught me the true meaning of grace (for myself and others), how to slow the eff down, how to honor myself above all and become a better business owner, wife and person in the process.
I have no idea how she's able to manage and support high achievers like me who are going at 292929 miles a minute on the daily but man, it's her freakin. sweet. spot.
The healing, the growth, the…. everything. There's seriously not enough words to explain her impact except to say if everyone could have a Lisa in their back pocket, the world would seriously be a better place."
– Jessica Rodriguez
Business Strategist and Podcast Host
Imagine being healthy, wealthy, rested, fulfilled, stress-free, and
loving

your life, business, and body.
I hear this from every one of the clients I've worked with.
I get it, AND I want you to know that it IS possible to slow down, find more ease in your life, take better care of yourself and still be a successful, ambitious, go getter.
Look, I know you're not going to put yourself first at the expense of everything else that matters to you. That's not the kind of person you are.
But this shift doesn't have to be a struggle, and it doesn't mean sacrificing your family, business, or other priorities.
It just requires that YOU matter more to yourself.
This isn't about a self-care checklist.
That's just more DOING — and doing more is the last thing you need.
This is about self-respect & self-worth.
I want you to stop reading for a second after the next statement and fully consider what it means for you:
Things we LOVE and VALUE we take care of.
How much do you really love and value yourself?
Of course, you do love and value yourself on some level. But can you honestly say you prioritize yourself over others in your life? Do you invest in yourself — with your energy, time and money? Do you give yourself what you need, physically, emotionally, mentally?
I know you're smart and driven. You have no problem getting shit done. You didn't get to where you are by sitting back, wishing upon a star, and hoping for life to bring you what you wanted.
You're ambitious.  And that means you're great at DO-ing.
I could tell you that DO-ing more isn't the answer, but I won't. You've probably started to discover this for yourself and it's becoming obvious that you need to slow down and discover another way — and it's making you squirm. You probably don't even know exactly what doing less looks like, but sooner or later you know you need to figure it out.  You want more, but not at a greater cost of your wellbeing.
I won't lie: Hiring me as your coach means shining a light on some uncomfortable shit, making the unconscious conscious, and taking the RIGHT action to achieve the results you want.
If you desire radical transformation in all areas of your life, it starts on the inside and then properly aligning your actions.
But you don't have to do it alone.
Step into Full Frontal Living™ by working with me.
Sooner or later, most people realize they need support to change. However, smart, ambitious, driven people like you know the sooner you get support, the quicker you'll be rewarded with amazing results.
If you're reading this you've probably been tuning into The Full Frontal Living™ Podcast, following me on social, or have watched me coach and have resonated with my message.
I'm guessing that you've been kicking around the idea of working with me for a little while.
Maybe you've even started to fill out the application more than once (I'm not spying on you, I swear!).
But you're unsure whether coaching with me is right for you. You might even be a bit intimidated and scared at the thought of working with me because you know you won't be able to hide.
In fact, if this is you, what you're really saying is that you're afraid to face yourself and intimidated by what you might discover about you.
I'm a tough, pragmatic coach with a huge heart because I care so damn much about the well-being of my clients.  So if you're the kind of person who's afraid of going beyond self-help and having a coach call you on your bullshit, this container is NOT for you.
I'm willing to say what most coaches won't, because I see and hear what most coaches don't.
Choosing to work with me means investing in and facing yourself — and transforming your life.
No more excuses. No more putting it off. No more compromising.
I'd rather you make a decision boldly than to get stuck in indecision, so I want to break down how we can work together.
DO NOT book a coaching journey call unless you really want to make yourself a priority.
90 Minute Intensive Full Frontal Living™ Coaching Session
($1500 USD)
In 90 minutes, we'll dive into your specific problem and dissolve it using a variety of coaching modalities, including conversational hypnosis.
Here are some examples of client problems we've cleared
Overwhelm

Prioritizing health 

Body Image

Releasing a relationship

Prioritizing tasks

Self trust

Doing too much

Guilt about resting

Not doing enough 

Doing too much

All or nothing mindset

Staying committed 

Releasing worry about business and money
 Imagine being free of the problem that is keeping you stuck.  What has this problem cost you in time, money and most importantly ENERGY?
I'm going to deliver a life-changing experience, just like I've done for every client before you because I see what most coaches don't, and I say what most coaches won't. 
After our session, you'll have an additional 2 weeks support via Voxer for additional feedback, questions or coaching.
Full Frontal Living™ Collective Group Coaching
($1667 USD/month)
This is a 6-month intimate group / 1:1 hybrid coaching container is now accepting applications.
If you're a student of self development, have been inside large group coaching programs, are craving a more intimate coaching experience, you're going to want to learn about the Collective.
This is a curated group of 5 women only, with a combination of group hot seat coaching, 1:1 coaching sessions and a Voxer chat so that you have all the support and accountability you move out of frustration and overwhelm and into more peace and ease where you're a priority.
During our 6 months together, we'll dive deep into the Full Frontal Living™ Methodology, so that you can claim unshakable confidence, next level self trust and feel fulfilled in all area's of your life.
Apply today.
Program starts September 2023
 Full Frontal Living™ Private Coaching Experience
(starting at $2,000 USD/month)
Limited Availability
How do you define success?  There comes a time when most successful people realize that doing more doesn't equal more success.  In fact, many successful, ambitious people struggle with how to prioritize themselves, slow down and do less while still wanting more.  More always seems to come with personal sacrifice, exhaustion and overwhelm.
Can you picture yourself with…more confidence, more peace, more ease, more connection, more impact, more money, more time, more freedom, more impact?
All of this is possible and MORE. 
Private coaching may be for you if you appreciate the intimacy of a 1 on 1 coach, value a high touch experience that is only focused on you so that you can live your full potential and create your amazing life.
DISCLAIMER:   Results vary from person to person. We guarantee the very best service and care, using current information and appropriate coaching and hypnotic techniques for your situation. Hypnosis and coaching is not meant to diagnose or treat any disease, but is intended to provide information, create awareness, educate, and motivate you to help you achieve your potential and consciously create the life you desire.
 The Full Frontal Living™ Coaching Method is NOT for you if you aren't ready to transform your life and open up to new perspectives and ways of being.  
It's also not for you if you are looking for a magic pill or a quick fix.
I'm not available to drag you along kicking and screaming, nor am I willing to stroke your suffering. 
My coaching is not for you if you just want to be spoon-fed the answers and aren't willing to be a participant in your own transformation.
It's also not for you if you aren't willing to consider there's more to success, incredible health, wealth, rewarding relationships and making an impact than working more, trying harder, getting more certifications, having better time management, perfecting everything, controlling more, spending less and making more, eating less and moving more and hoping the other people in your life will get it together. Phew — and that's not even the full list of the bullshit holding you back.
The Full Frontal Living™ Coaching Method is absolutely NOT for you if you aren't open to diving under the procrastination, overthinking, over-doing and overwhelm so that you can discover the REAL problem causing these behaviors. 
 This coaching is also not for you if you're not interested in having unshakable self trust, confidence and more time and ease.  This will require you to get uncomfortable and take action (but not in the way you might think) so that you can embody new habits and behaviors and create the life you want to be living. 
So, if any of those apply to you, honestly, I'm not the right coach for you, and you can put the idea of applying to work with me to rest and click away now.
Here's how you know The Full Frontal Living™ Coaching Method is a perfect fit for you.
You are
…successful, driven and ambitious
…all-in and serious about your personal development
…afraid that your life might unravel if you loosen your grip or let go even a little
… exhausted, burnt out, frustrated and overwhelmed more often than not
…tired of having a chaotic relationship with work, your body, your money, your family and other people
…done with being so damn hard on yourself
…sick of the endless self-defeating chatter in your mind
…tired of comparing yourself against everyone and everything around you

If you're the kind of person who has a vision for the life you want, but you're stuck in your head and KNOW what is holding you back… which makes it even more frustrating that you're not there yet and haven't been able to fix the problem.
Then, yes, I'm talking to you.
You've mastered amazing things in your life, and you're beginning to understand that this goes beyond mindset … and you're going to learn exactly what is holding you back and how to master your behavior with my help.
Just imagine how your life would be different if you knew how to turn OFF the *should*-ing all over yourself.
How would your life change if you could stop feeling judgemental and guilty about your business, health, life and parenting?
How is believing you can't take better care of yourself with so many other things on your plate serving you?
I can tell you with CERTAINTY that making yourself a priority and living a life that feels good and doesn't burn you out is available to you. That it doesn't matter how many ways there are to get from point A to point B. What matters more is your commitment to navigating the journey in a way that feels good. As you're thinking about this, consider that you can also create phenomenal results without it feeling hard, frustrating or complicated.
You may or may not have already realized that change is possible, but you need guidance to show you what you're missing. And there's nothing wrong with that.
You can see that you want to feel peaceful, empowered and confident in your life business and body, can you not?  What more needs to happen before you realize you're no longer willing to settle for anything less?
I am ONLY here for your transformation. (Not enabling your excuses or addictions — including your addiction to DOING.)
And that transformation requires bravery and bold action. It takes commitment and willingness to get curious. It requires you to get uncomfortable, because that's where you grow. Only YOU can do the work by showing up for your sessions open, willing and curious, even (especially) when it gets tough.  
I will challenge your perceived limitations, subconscious programming, thoughts, emotions, behaviours and circumstances, so you can achieve what you want for your life, your health and your business.
If you can check off these 3 points, then you owe it to yourself to jump on a coaching call:  
You're the kind of person who has a vision for the life you want.

But you're stuck in your head and KNOW what is holding you back even though you're dedicated to personal growth.

AND you just can't seem to figure out how to move past the problem.
Just as it has for so many others, the Full Frontal Living™ Coaching Method will change your life.
"Lisa is POWERFUL. In a single session she rocked my world (and I don't say that lightly). She is wildly intuitive and zoomed in on what was REALLY holding me back. Bottom line? Sometimes we're blind to our own blocks and limiting beliefs. Working with Lisa is like putting on glasses."
– Rebecca Ives Rubin, Marketing Coach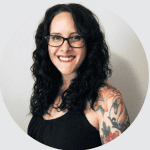 "Since working with Lisa, I have more confidence in my abilities and the right frame of mind for tackling problems and situations. I learned I've developed coping mechanisms over the years, rather than set-in-stone traits I have no control over. I learned that there is nothing wrong with me. Coaching with Lisa is the best thing I've invested in for my life and business."
-Gabrielle C.
And if you're still feeling resistance…
How much more exhaustion, poor health, struggle and lacklustre results are you willing to endure?
I want you to fully consider what it's going to cost you if you do nothing and stay stuck in frustration, procrastination, overwhelm and chaos. Where are you going to be in another 6 months if you keep trying to push through the exhaustion and never ending to-do list, while telling yourself you have no time to make your physical and emotional well-being a priority?
What's the vision you have for yourself?
And if you could put a dollar amount on it, what is it worth to you to have that vision become reality?
Could you even attach a value if you knew all of your overwhelm would fall away, while you create the best life, business and health available to you?
By investing in your personal development at this next level, you are saying YES to self-respect, self-worth, self-confidence, personal integrity and personal responsibility. You are saying YES to making yourself matter more than everything and everyone else. (And NO, that doesn't make you selfish; it makes you wise and means you have MORE to give to the people who matter most.)
The long-term value you'll receive from the Full Frontal Living™ Coaching Method will far outweigh the investment, #guaranteed.
If you're ready for a master coach who will lovingly call you on your bullshit and challenge you to step into a relationship with yourself that gives you bullet-proof confidence, unshakable self-trust, unwavering self-love, and self-worth, let's get started.